Journey to Being a Code Jedi: Working with JavaScript
Programming, coding, writing logical structures or whatever you personally like to refer to it as can all be quite difficult sometimes.
I'm someone who has been coding for awhile, and started playing around with the concept back in the days of Myspace, editing my pages with HTML tags and even customizing my friends pages too.
With that being said, I've always liked to learn and I've wanted to be a developer for some time, but when reaching a certain point in my learning journey in the past, I'd usually get stuck, quit for awhile and then by the time I came back, need to recap therefore remaining in a loop, where I never quite got to progress to the level of skill that I wanted to achieve. I'm providing this back story to my learning journey because when it comes to tech (or anything) I feel like that it's important for us to talk about our struggles, because sometimes those struggles are what stand between our successes and our failures, I know they have in the past, in my case.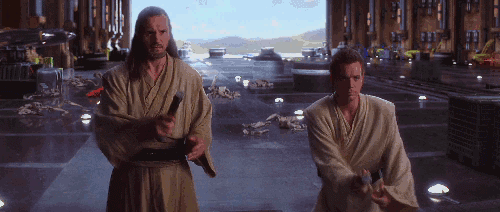 That is why I'm creating this series of posts (I promise it's not just to nerd out and post tons of Star Wars GIF's), that will document my progression in tech and hopefully act as support for anyone else who may be facing any type of struggles. Each week, I'll go over what I was studying or what I learned, sometimes providing code examples, snippets or even tips I've learned about that specific topic. And, if you like, I'd love to see some comments of what you guys are learning too.
I think what's really important about this documentation is it will serve as a way to push past the mentality of basically thinking that you are not good enough, because we all are, we just need to fight back that doubt and work through that mindset, until we're on the other side smiling at how far our skills have come.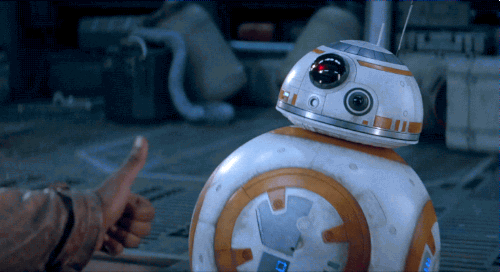 With that being said, onto JavaScript.
Aiming to talk about what level I'm at in JavaScript, I already have a good base knowledge on certain JavaScript aspects, I know about conditional statements, scope, variables, functions and even loops, I think having a beginner base in Python in the past really helped out with this. But, one area that I always get a little stumped on definitely has to be arrays and objects, especially when trying to really get a firm grasp on methods within objects and even the inner workings of the infamous "this" keyword. So this week has really just been about recapping basics, then starting to move towards this area so I can learn more, practice and improve my understanding of those concepts. Next week I'll have actual code examples to show off.
To sum everything up, it's okay to struggle, in fact it's more than okay, it's actually completely normal. It's whether or not you let that struggle push you off your path that determines how far you take your skills and how far into this industry you go. So, let's fight past the hard problems, solve those pesky bugs and work hard to succeed in this career that we are all so passionate about.